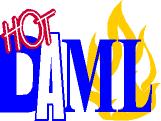 DARPA AGENT MARKUP LANGUAGE (DAML)
This page discusses the DAML+OIL information pertaining to the web page at http://www.cs.umd.edu/users/hendler/index.html
The DAML description of the information that is human readable on my home page is kept separately from the page itself -- it is available in two forms:
The first notation is found in this file (in some browsers you will need to view page source, to see it). This form is the notation that is compatible with XML and RDF parsers. It is hard for humans to read, but great for machines.
The second notation is a more human-readable form called RDF/N3 (for Resource Description Framework/ Notation 3). This notation, developed by Tim Berners-Lee, the inventor of the World Wide Web, uses a simple representation in which information is represented by triples sort of like "subject verb object" in human language. The RDF/N3 version of the information can be found in this file .

For more information on DAML click here

For more information on RDF/N3 Click here .

---

Return to Dr. Hendler's home page .